Políticas de control migratorio: Estudio comparado de España y EE.UU.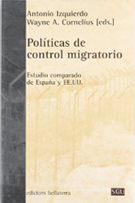 (distributed by Edicions Bellaterra)
Edited by Antonio Izquierdo and Wayne A. Cornelius
Published 2012, 400 pages, paperback
Contents
Introducción, Antonio Izquierdo Escribano y Wayne A. Cornelius, 9
1. Evaluación de la reciente política de control de la inmigración estadounidense: lo que los emigrantes mexicanos pueden contarnos, Wayne A. Cornelius, 31
2. La política de regularizaciones masivas y su función en el modelo migratorio español, Antonio Izquierdo Escribano, 45
3. El proceso migratorio de los extranjeros marroquíes y ecuatorianos en España, Belén Fernández Suárez, 103
4. La evolución reciente de las políticas de control migratorio en España, Antía Pérez Caramés, 143
5. Políticas de integración y asentamiento migratorio, Rosa M.ª Soriano Miras y Juan Ignacio Rico Becerra, 213
6. Cómo las políticas estadounidenses de control de la inmigración determinan la emigración procedente de México, Mollie Cohen, Jonathan Hicken y Jorge Narvaez, 251
7. La participación en el mercado laboral de los ecuatorianos y marroquíes en España, Concha Carrasco Carpio y Dirk Godenau, 305
8. Redes, mercados y políticas. Combinación de factores en el proceso migratorio de Ecuador a España, Miguel Laparra Navarro, 345
About the Editor

s

Antonio Izquierdo Escribano is Professor of Sociology at the University of A Coruña, and Team of Sociology of International Migration (ESOMI). Spanish expert in Continuous Reporting System on International Migration SOPEMI OECD from 1989 to 2008. Wayne A. Cornelius is Director Emeritus of the Center for Comparative Immigration Studies, CCIS. In 1979 he founded UCSD's Center for US-Mexican Studies. It is considered the foremost expert on Mexican immigration in the country and an authority in the field of immigration policies in the U.S., Spain and Japan.