May Dabbagh (United States)
May Dabbagh (United States)
July 2018 to July 2018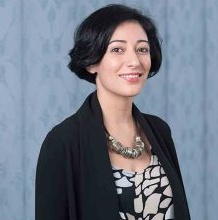 Biography
Research Project
Biography

May Al-Dabbagh is an Assistant Professor of Social Research and Public Policy at New York University Abu Dhabi with an associated appointment at NYU in New York. Previously, she was the Founder and Director of the Gender and Public Policy Program and a Research Fellow at the Women and Public Policy Program, HKS, Harvard University.

Al-Dabbagh is a specialist on gender and globalization in the Middle East and has conducted research on the topic using a combination of social psychology, public policy, and feminist lenses. She has published in Organization Science, Journal of Middle East Women's Studies, and Idafat: Arab Journal of Sociology (in Arabic). Her work has been featured in over 40 local, regional, and international media outlets. Her interdisciplinary collaborations include Voice (re) Claimed (with Manal Al-Dowayan, artist) and Making Space (with Pato Hebert, Tisch School of the Arts, NYU) and developed a pedagogical method for teaching about identity, self, and context called "Digital auto-ethnography". Her current research is a book project about the construction of modern motherhood and work in the Gulf.

A graduate of Dhahran Ahliyya Schools (Saudi Arabia), she then received a BA (Harvard University) and a PhD (Oxford University) in psychology. She is married to Hashem Montasser and they have two children: Abdallah and Malak. Together, they live a life of continuously shifting positionalities and very poofy hair.
Research Project

My research is located at the intersection of gender, class, citizenship, migration, and global work. My current book project focuses on the construction of modern motherhood and work in sites not yet theorized in the US academy. In this project, I investigate the experiences of married expatriate women in the United Arab Emirates who leave full-time professional employment in order to establish entrepreneurial businesses after becoming mothers. These entrepreneurs specialize in mother or child related services or products and identify with the term "mompreneur" in ways that distinguish them from "mothers" and from "entrepreneurs". Through a 3 year ethnographic investigation and 40 in-depth interviews, I explore how mompreneurs attempt to reimagine their mothering in market terms and how they describe the emotions involved in mothering and working. I also explore the variation in managerial practices of "work" in these entrepreneurial ventures:  some businesses owners reproduce organizational cultures similar to their previous jobs while others cultivate cultures of resistance that reinforce the primacy of care as a work value for their employees.

I argue that mompreneurs craft a class-based career mobility strategy that allows them to make certain types of care recognized as "work". In particular, I explore the cultural capital that allows mompreneurs to feature in the UAE's story of being modern and global in ways that they would not have in other more established locations. Finally, the strategies they take help us rethink ideas about how paid and unpaid labor get recognized and how emotions feature as an important mechanism in defining "care" and "work".