David FitzGerald
CCIS Co-Director and Professor of Sociology, UCSD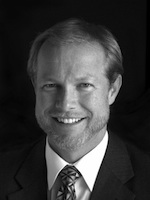 9500 Gilman Dr #0548
La Jolla , California 92093
Profile
Research
Publications
CV
Profile

David Scott FitzGerald is Theodore E. Gildred Chair in U.S.-Mexican Relations, Professor of Sociology, and Co-Director of the Center for Comparative Immigration Studies. His research analyzes policies regulating migration and asylum in countries of origin, transit, and destination. FitzGerald's forthcoming book, Refugee Beyond Reach: How Rich Democracies Repel Asylum Seekers (Oxford University Press 2019), analyzes how governments in North America, the EU, and Australia try to keep asylum seekers from reaching their territories. His previous books include Culling the Masses: The Democratic Roots of Racist Immigration Policy in the Americas (Harvard University Press, 2014), which won the American Sociological Association's "Distinguished Scholarly Book Award", and Nation of Emigrants: How Mexico Manages its Migration (University of California Press, 2008). His current projects include directing the California Immigration Research Initiative. FitzGerald was honored with the "Award for Public Sociology" from the International Migration Section of the American Sociological Association in 2013 and frequently provides comment to local, national, and international media.

 
Research
Research Expertise
International migration, comparative immigration and citizenship policy, refugee and asylum issues, border enforcement, transnationalism
Geographical Regions of Specialization
Mexico, USA, Global North, Latin America
Current Research Projects
Refugee Beyond Reach: How Rich Democracies Repel Asylum Seekers
The core of the asylum regime is the principle of non-refoulement that prohibits governments from sending refugees back to their persecutors. Governments attempt to evade this legal obligation to which they have explicitly agreed by manipulating territoriality. A remote control strategy of "extra-territorialization" pushes border control functions hundreds or even thousands of kilometers beyond the state's territory. Simultaneously, states restrict access to asylum and other rights enjoyed by virtue of presence on a state's territory, by making micro-distinctions down to the meter at the border line in a process of "hyper-territorialization." This study analyzes remote controls since the 1930s in Palestine, North America, Europe, and Australia to identify the origins of different forms of remote control, explain how they work together as a system of control, and establish the conditions that enable or constrain them in practice. It argues that foreign policy issue linkages and transnational advocacy networks promoting a humanitarian norm that is less susceptible to the legal manipulation of territoriality constrains remote controls more than the law itself. The degree of constraint varies widely by the technique of remote control.
California Immigration Research Initiative
If California were its own country, it would have the world's fourth largest immigrant population. It has the most immigrants in the United States (more than 10 million) and the highest share in its population (27%). The way these newcomers are integrated into the state will shape California's schools, workforce, businesses, public health, politics, and culture. Understanding the incorporation of immigrants and their descendants and how public agencies and community-based organizations affect integration is essential for the state's future well-being. The California Immigration Research Initiative is showing the complex processes of immigrant integration and providing analytical frameworks and applied solutions for policymakers and non-governmental organizations working on immigration-related issues. The initiative harnesses the strength of five UC interdisciplinary immigration studies centers. The Center for Comparative Immigration Studies (CCIS) at UCSD hosts the initiative in coordination with the UCLA Program on International Migration, Center for Research on Immigration Population and Public Policy at UCI, Center for Latino Policy Research at UCB, and Immigration Research Group at UCR.
Media Interview Topics
FitzGerald frequently provides comment to print, on-line, radio, and TV media, including the New York Times, Economist, Bloomberg News, Guardian, Washington Post, Los Angeles Times, National Geographic TV, USA Today, Al Jazeera, CNN Radio, Slate, Radio Free Europe, EFE, CBS "60 Minutes," Salon, CNN.com, Newsweek, U.S. News and World Report, Voice of America, Nippon TV, Australian Broadcasting Corporation TV, CSPAN, Yomiuri Shimbun, Asahi Shimbun, Liberatión, Global Times, BBC World Service, BBC Mundo, BBC.com, The Nation, El Nacional, The Hill, ORF Austrian TV, PolitiFact, Radio Euskadi, the Atlantic, KPBS, San Diego Union-Tribune, and Svenska Dagbladet
Publications
ASA Distinguished Scholarly Book Award, 2017
Midwest Sociological Society, Distinguished Book Award, 2017
APSA Migration and Citizenship Section Best Book Award, 2015
ASA Political Sociology Section Best Book Award, 2015
ASA International Migration Section Best Book Award, 2015
Honorable Mention, Theodore Saloutos Book Prize, Immigration and Ethnic History Society, 2015
Selected Publications
"The Sociology of Refugee Migration", (with Rawan Arar), Annual Review of Sociology, 2018
"Can You Become One of Us? A Historical Comparison of Legal Selection of 'Assimilable' Immigrants in Europe and the Americas" (with David Cook-Martín, Angela S. García & Rawan Arar) Journal of Ethnic and Migration Studies, 2017
"The History of Racialized Citizenship," in The Oxford Handbook of Citizenship, edited by Rainer Bauböck, Ayelet Shachar, Irene Bloemraad, and Maarten Vink. New York: Oxford University Press, 2017.
"150 Years of Transborder Politics: Mexico and Mexicans Abroad," in A Century of Transnationalism: Immigrants and Their Homeland Connections, edited by Nancy L. Green and Roger Waldinger. Urbana: University of Illinois Press, 2016.
"The role of visual markers in police victimization among structurally vulnerable persons in Tijuana, Mexico." (with Miguel Pinedo, Jose Luis Burgos, Adriana Vargas Ojeda, and Victoria D. Ojeda), International Journal of Drug Policy 26 (2015): 501-508. 2015. 
"Eligir a la población: leyes de inmigración y racismo en el continente americano," (with David Cook-Martín) in Inmigración y Racismo: Contribuciones a la historia de los extranjeros en México, edited by Pablo Yankelevich. Colegio de México, 2015.
"Culling the Masses: A Rejoinder" (with David Cook-Martín) Ethnic and Racial Studies 38(8). 2015.
"The Sociology of International Migration," in Migration Theory: Talking Across Disciplines, edited by Caroline B. Brettell and James F. Hollifield. Routledge, 2014.
Emigration's Impacts on Mexico: A Sociology of Dissimilation in How Immigrants Impact their Homelands, edited by Susan Eva Eckstein and Adil Najam. Durham, NC: Duke University Press, 2013.
Migration: Policies and Politics (with Rafael Alarcón) in Mexico and the United States: The Politics of Partnership, edited by Peter H. Smith and Andrew Selee. Lynne Rienner Publishers, 2013.
A Comparativist Manifesto for International Migration Studies, Ethnic and Racial Studies, 2012.
Citizenship à la Carte: Emigration and the Strengthening of the Sovereign State in Politics from Afar: Transnational Diasporas and Networks, edited by Peter Mandaville and Terrence Lyons, Columbia University Press, 2012.
Mexican Migration and the Law, in Beyond the Border: The History of Mexico-US Migration, edited by Mark Overmyer-Velázquez, pp. 179-203. Oxford: Oxford University Press. 2011.
Liberalism and the Limits of Inclusion: Racialized Preferences in Immigration Laws of the Americas, 1850-2000. (with David Cook-Martín), Journal of Interdisciplinary History. 16(1): 7-25. 2010.
Colonies of the Little Motherland: Membership, Space, and Time in Mexican Migrant Hometown Associations, Comparative Studies in Society and History 50(1). 2008.
Mexican Assimilation: A Temporal and Spatial Reorientation (with Tomás Jiménez), W.E.B. Du Bois Review 4(2): 337-354. 2007.
Inside the Sending State: The Politics of Mexican Emigration Control, International Migration Review 40(2): 259-93. 2006.
Towards a Theoretical Ethnography of Migration, Qualitative Sociology 29(1): 1-24. 2006.
Rethinking Emigrant Citizenship, New York University Law Review 81(1): 90-116. 2006.
Nationality and Migration in Modern Mexico, Journal of Ethnic and Migration Studies 31(1): 171-91. 2005.
Transnationalism in Question (with Roger Waldinger), American Journal of Sociology 109(5):1177-95. 2004.
Beyond 'Transnationalism': Mexican Hometown Politics at an American Labor Union, Ethnic and Racial Studies 27(2): 228-47. 2004.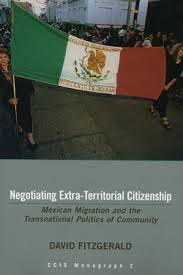 Negotiating Extra-Territorial Citizenship: Mexican Migration and the Transnational Politics of Community. Center for Comparative Immigration Studies, 2000.
CV